MOST POPULAR
The 3-in-1 course bundle combines training to become a successful Medical Assistant, Phletobomy Technician and ECG/EKG Technician. RCI provides the training necessary to succeed in the medical field while teaching you how to be a succesful professional upon graduation.
Read more
WHY MA+ IS DIFFERENT
MA, Phlebotomy, & EKG are ABHES Accredited
Phlebotomy State Certificate
ECG/EKG National Certificated
Financial Aid Assistance
Flexible Hours
Read more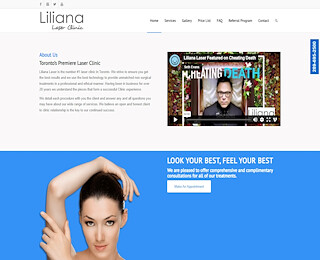 lilianalaser.ca
Lilianalaser.ca
Laserod
20312 Gramercy Pl
Torrance
CA
90501
3103285869
laserod.com
Laserod's Production Division specializes in high resolution, small spot size laser machining and silicon wafer resizing for semiconductor, medical, solar and microelectronics applications, as well as patterning for the display industry.
Laserod
is a pioneer in maskless fast prototyping of laser patterns on a broad variety of substrates, especially touch panels, using a direct write, environmentally friendly high isolation process.
| Compare with other schools | Regan Career Institute | Other Schools |
| --- | --- | --- |
| Medical Assisting - ABHES Accredited | YES | |
| Phlebotomy - ABHES Accredited | YES | |
| EKG - ABHES Accredited | YES | |
| Phlebotomy CPT1 - State Certification | YES | |
| EKG - National Certification | YES | |
| Financial Aid Assistance | YES | |
| Flexible Hours | YES | |
OUR COURSES
RCI courses are regularly evaluated for effectiveness and strive to ensure the material taught remains pertinent and up-to-date.
LEARNING SKILLS
Didactic education is important but equally important is learning the skills and techniques developed here at the institute.
FINANCIAL AID
We understand that sometimes we need a helping hand to get started. Allow us to help you position yourself into the proper plan.
Trusted for Allied Health education in Southern California Since 2004
WE'RE GOOD AT WHAT WE DO. ALLOW US TO HELP YOU